Library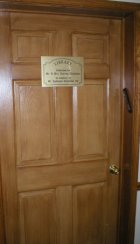 The library at Ahavas Torah is probably the largest Judaica library in Northeast Philadelphia. There are comprehensive collections in Hebrew as well as a large collection of Jewish titles.
The library contains a large collection of volumes relating to Chumash, Tanach, Midrash, Mishna, Gemara, the Rishonim and the Acharonim.
There is also an extensive selection relating to Mussar, Jewish History, Jewish Law and commentaries on the Tanach, the Mishna and Gemara.
The library has a large selection of tapes on Jewish History, Tanach and Gemara as well as on related areas of Jewish thought.
A periodical entitled The Ahavas Torah Library Times is iissued at intervals to keep the membership informed of additions to the library.
Dr. Joseph Mandelbaum, Chairman of the Library Committee